Pakai Industries Berhad
Pakai Industries Berhad (Pakai) 196901000011 (8334-U) is a well established Malaysian manufacturer of quality kitchen and bathroom products. With more than 50 years of experience, Pakai is a well known house hold brand name for plastic cisterns since the 1960s. We have also been exporting to many countries around the world. Pakai produces products under its own brand as well as OEM brands. In addition, Pakai also manufactures products under OEM for a number of ceramic sanitary ware manufacturers.

Export is an important revenue generator for our company. In the past few years, our export business has been increasing significantly as more of our products are being sold around the world. We are committed to expanding the sales of our export business by both increasing the product range as well as increasing the channels of sales while maintaining our Export Quality.

Our products are exported either in our brand products or OEM customers. We welcome customers who may have requirements in their own brands. We also welcome customers who are interested to distribute our brand products in their country. We normally prefer to work on exclusively with one party in each country.
Award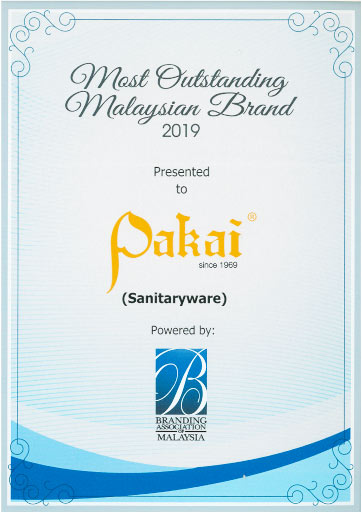 Most Outstanding Malaysian Brand 2019
---
OUR VISION
To enable all segment of property industry stakeholder to enjoy international standard bathroom & kitchen products in term of functionality, durability, sustainability & affordability.
OUR MISSION
To be on the leading edge of our industry and achieve stakeholder satisfaction by providing quality materials, specialized solution, dependable service and competitive prices.
OUR VALUE BADGES